Neighbors, classmates, toy car race opponents, Playmobil figurine collectors,
film club attendants, partners in discussions on the chief world systems, colleagues.
Friends for a lifetime. Together we design tactile books, to be seen with your eyes
as well as your fingers. For children, every one of them, and more.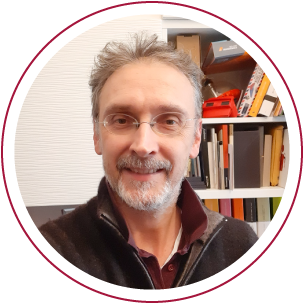 I was part of a fortunate generation. As I kid, smartphones and tablets weren't around yet, so I was able to evade their invasive influence.
I played a lot with shapes and colors (as well as with toy cars, with great joy) experimenting with the direct tactile and visual experience, disconnected from any screen. During my youth and then in adult life, I witnessed the birth and the growth of the digital era with great wonder and admiration.

In my job as a graphic designer, I had the chance to get to know the great potential of graphics software and digital devices, happily shifting back and forth between online and offline communication in many branches: publishing, corporate design, packaging, web design.
Fortunately, the direct sensory experience is still possible, and it still exists in all analog fields, especially in tactile books, in which materiality is a fundamental component.
When Valentina asked me to collaborate on our first tactile book project, I accepted knowing that it would have stimulated my interest and curiosity.