Neighbors, classmates, toy car race opponents, Playmobil figurine collectors,
film club attendants, partners in discussions on the chief world systems, colleagues.
Friends for a lifetime. Together we design tactile books, to be seen with your eyes
as well as your fingers. For children, every one of them, and more.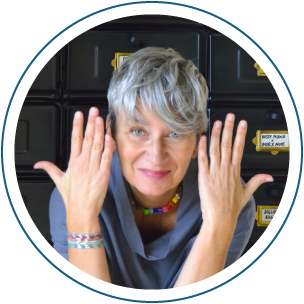 Some say I was born holding a pair of scissors. As a kid, I wasn't a great reader, but every book I owned had to do with collages, cutting, gluing.
My dad used to work in the packaging industry, so I've always had cardboard in my DNA.
For me, a real-life model has no equal in terms of tactile, emotional and interactive feelings.
Plus, the fun you have while you build it!

My work experience consisted in ten years in the design sector, as an industrial, exhibition stand, and advertising designer. I then shifted to other fields I was interested in, independently concentrating on didactics and children's literature and following courses on these topics. At the same time, I held creative workshops on writing and drawing at local elementary schools for several years.
In 2009, I got to see one of my dreams come true, founding the the first children's library in Terre di Pedemonte, link will open in a new window, where we organize readings and workshops.
In 2013 I started a voluntary service with UNITAS, link will open in a new window, the Swiss Italian foundation for the visually impaired. This experience got me fascinated with the accessible publishing and tactile book industries.
After a long period of knowledge gaining and exchange with professionals and experts, I felt ready to design my own tactile books.
The first person I wanted on board with me was Enrico, thanks to his important knowledge in the graphics and printing sectors, and to the pleasure of getting to work and play together again.