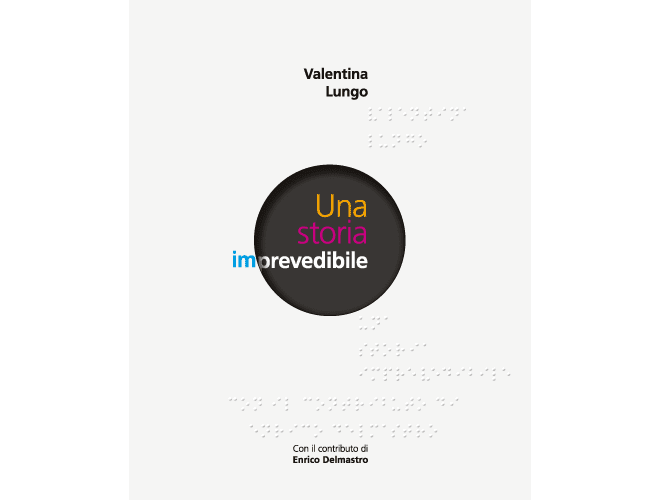 Cover of the tactile book An Unexpected Story by DieciOcchi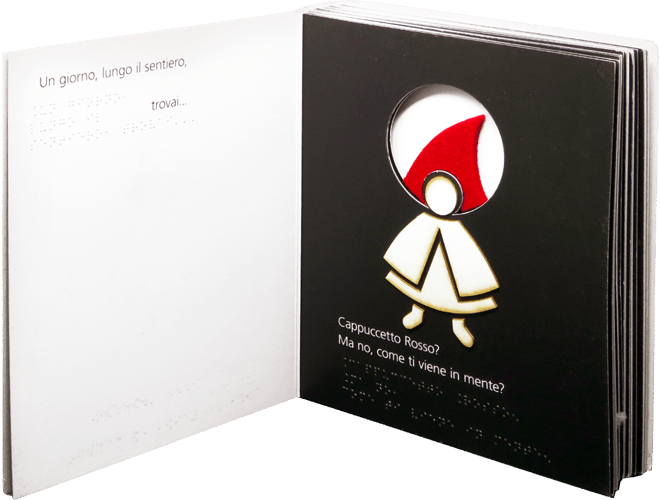 Book page with tactile illustration of Little Red Riding Hood, text and Braille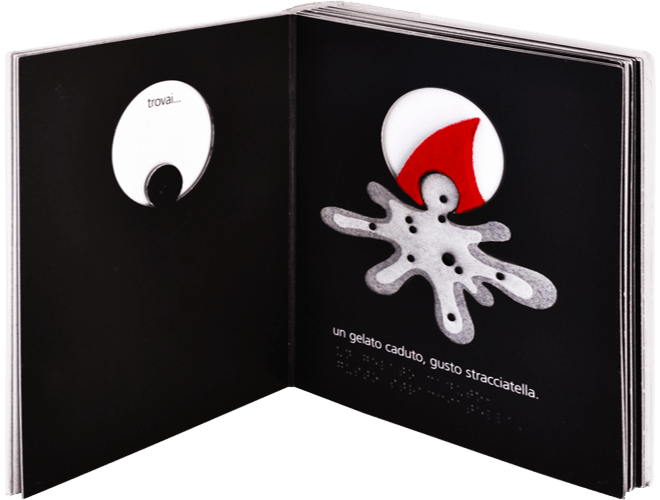 Turning the page it turns out that the Little Red Riding Hood is a fallen ice cream cone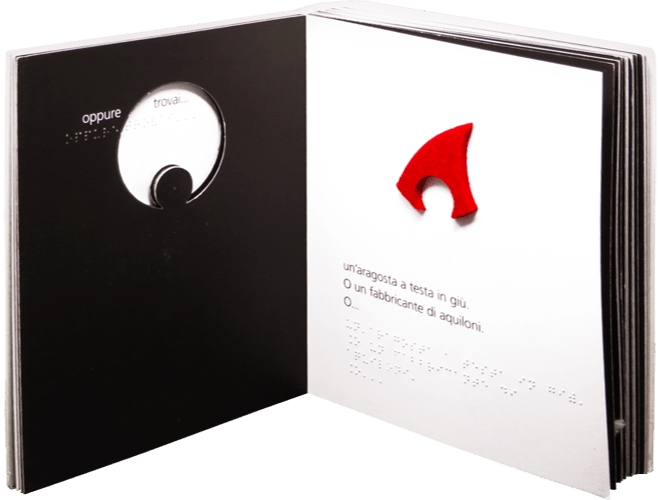 And in the next it is an upside down lobster or perhaps a kite
In collaboration with Enrico Delmastro
Illustrated tactile book 21x26cm, 44 pages
Coupled pages binding, paper 330g/m²
24 pt sans serif text, Braille text
Illustrations combining different materials, in relief
Italian edition: prototype stage, still not picked up by publishing company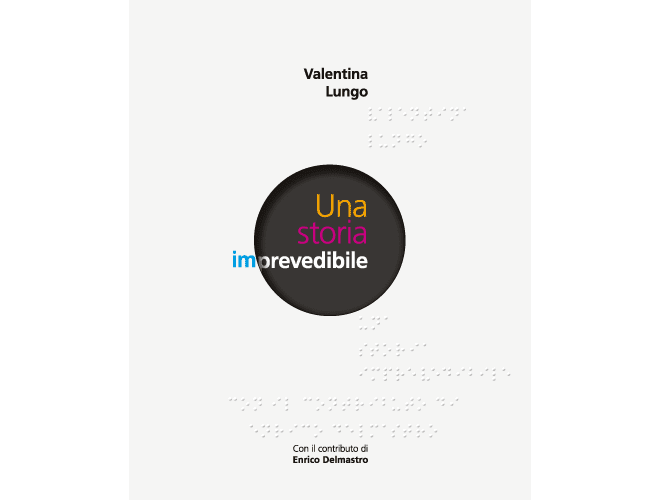 Cover of the tactile book An Unexpected Story by DieciOcchi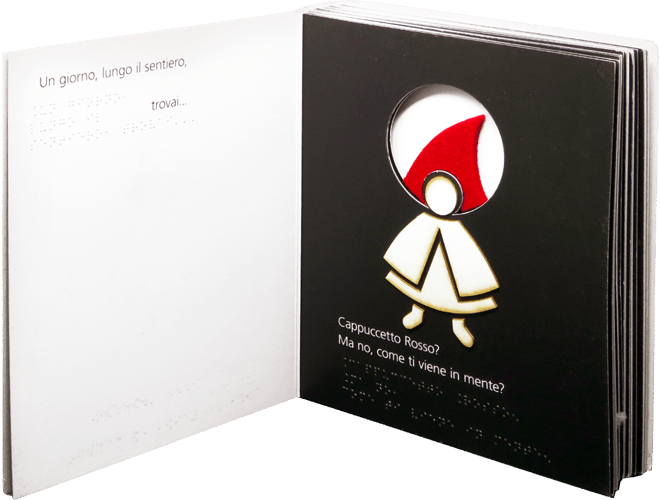 Book page with tactile illustration of Little Red Riding Hood, text and Braille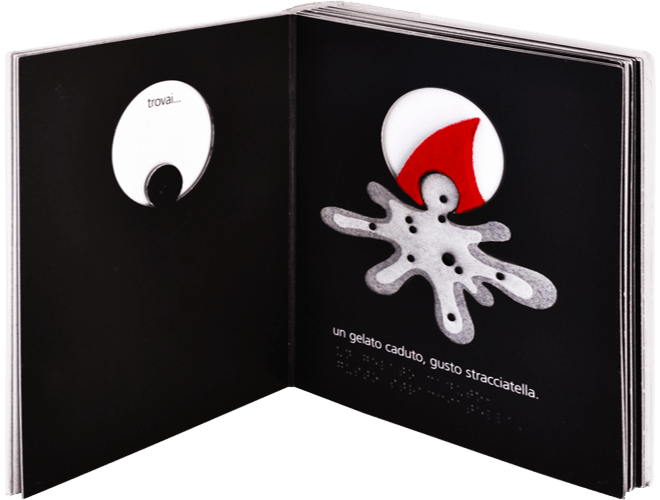 Turning the page it turns out that the Little Red Riding Hood is a fallen ice cream cone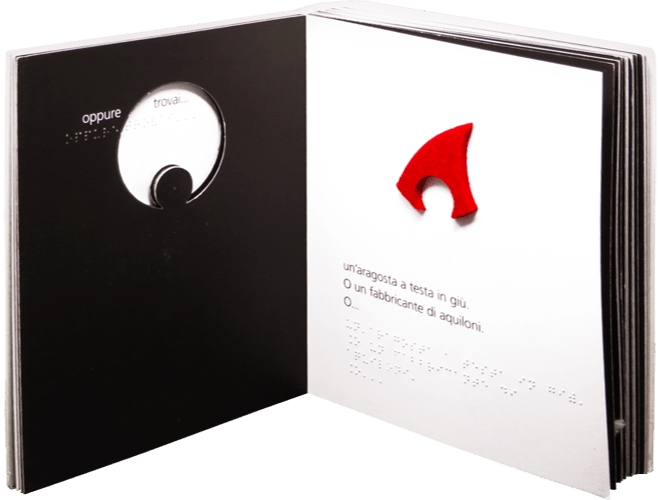 And in the next it is an upside down lobster or perhaps a kite
In collaboration with
Enrico Delmastro
Illustrated tactile book
Format: 21x26cm, 44 pages
Coupled pages binding
Paper 330g/m²
24 pt sans serif text, Braille text
Illustrations combining different materials, in relief
Italian edition: prototype stage, still not picked up by publishing company
"One day, walking along the path, I found… Little Red Riding Hood?
Of course not, how can you imagine such a thing?"
"One day, walking along the path, I found… Little Red Riding Hood?
Of course not, how can you imagine such a thing?"
There isn't just one universal way to give meaning to a shape, both at the visual and at the tactile level. This principle is what we wanted to put in practice with Una Storia Imprevedibile, taking inspiration from the widely known tale of Little Red Riding Hood.
The figures that appear seem to suggest that we are telling a familiar story, but a surprise is always round the corner, or rather, round the page…
In order to make the game work, we concentrated on the book design and, graphically, on the positioning of the text, which is an integral part of the construction of the story itself.
Justification for the T&T Award
Justification for the T&T Award
"A very harmonious, very well built, very professional book. The story is very nice and interesting are the ties with Little Red Riding Hood. Good color contrast. The surprises are fun and stimulate a very engaging imagination process."