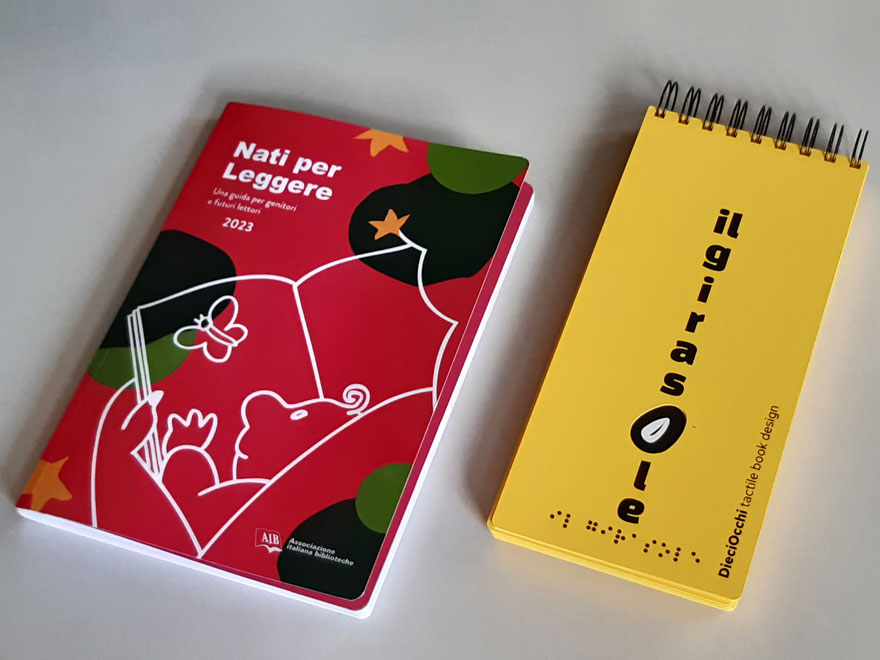 IL GIRASOLE (THE SUNFLOWER) GETS LISTED ON THE ITALIAN GUIDE "NATI PER LEGGERE" ("BORN TO READ")
Il girasole (The Sunflower) is a real bet, a type of book which is usually defined as "a text for blind or visually impaired children" and not considered an ordinary illustrated album; it's a self-made project with a limited circulation. In spite of this, thanks to the incredible support, to the large number of positive reviews and to the publicity made by the people who bought it, used it and presented it, the book managed to arrive where we could never imagine: on the Italian Bibliographic Guide of "Nati per Leggere" ("Born to Read").
The Guide is the result of a long and accurate work of research, confrontation and, finally, selection among the ample publishing production, particularly addressed to small children, which was made by the working team of the Osservatorio Nati per Leggere and by the Associazione Italiana Biblioteche (Italian Library Association) and which represents a reference point for anyone working in the field of early childhood.
The binennal Guide has not only an undisputed importance and a large national circulation, but it stands out for its accuracy and beauty, from a graphic point of view and for its contents. This issue, edited by Nives Benati and Angela Del Gobbo, presents and reviews 285 books, which have been selected among thousands of texts published in 2021 and 2022, divided in sections according to the age of readers or the type of book: this simplifies its consultation according to different necessities.
We were extremely pleased to know that Il girasole got inside this accurate selection, particularly because it proved that accessible books can be considered real illustrated books and not only instruments exclusively addressed to children with difficulties. As a matter of fact, the Guide included it among all the other titles, defining it as "a book to discover the world".
"Take this book in your hands and it will give you an infinite number of surprises: the sprouting of a seed, the growth of a plant, the dance of the flower that finally blossoms. Next you find figures in relief which, page after page, you can explore at first with your eyes and then with your fingers. In the end, if you open the vase in the last page, you will find real little seeds which you can plant. Something truly magical!"
The Guida bibliografica italiana 2023 which is distributed to pediatricians, libraries and volunteers, can be bought here.