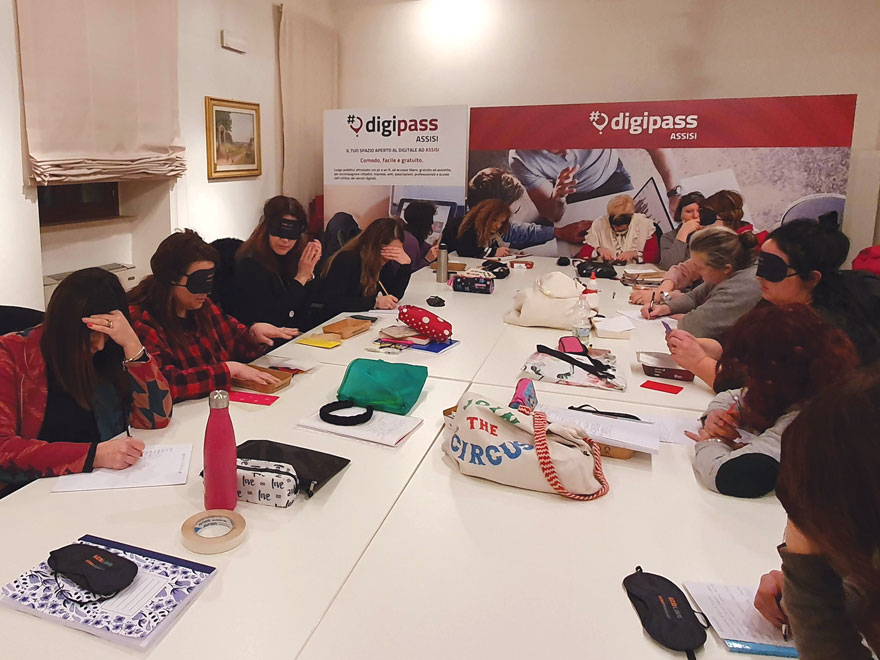 WORKSHOP FOR THE PROJECT "VOCEVERSO"
EDUCATIONAL WORKSHOP
FOR DE PROJECT "VOCEVERSO"
Leggere con dieci occhi (Reading with Ten Eyes) is the educational meeting which we organised for "Voceverso", the project winner of the Cepell competition "Educare alla lettura 2020" promoted by the Birba association of Assisi. It's a free initiative which, within the period of a school year, proposes meetings and workshops based on the promotion of reading, mainly addressed to primary school teachers, but open to everyone who works in the field of pedagogy, education or social issues.
The initiative, which interests Umbria and Sicily, involves a series of panelists coming from different professional experiences (pedagogy, child literature, interactive languages, philosophy, libraries, psychology, writing, performing arts...) and consists in meetings (online or in person) in both regions; DieciOcchi was among them! We were invited to hold a workshop on tactile books and we proposed Leggere con dieci occhi (Reading with Ten Eyes), divided in two meetings. During the first we defined what a tactile book is, its characteristics, the requisites it must have in order to be accessible for blind or visually impaired readers, showing many examples directly. But the meeting wasn't just theoretical. We also gave space to an essential and, at the same time, enriching experience: listening to material with our eyes closed and its multiple interpretations. This is an exercise which always provides new emotions and suggestions: on one hand, it "silences" our sight involving one of our other senses, on the other hand it helps us to go beyond our clichés and stereotypes. The participants (all women, as usual...) really showed a great talent for this exercise, giving rise to interesting, particular and unexpected sensations and situations.
During the second meeting, we carried on this research and every participant created an illustration, a plate or a small book using material chosen on the day before. Even in this case, it's impossible not to point out the great attention and concentration shown by every participant while creating their tactile and sound compositions: considering the short time and the material that, for logistic reasons, can never be complete, their works were really astonishing! In the end, when the participants shared their projects, we saw stylistical consistency, originality of ideas, respect of requisites... We really hope that this "hors d'oeuvre" relating to the creation of tactile books stimulates the wish to study the subject in depth, at school, in libraries or at home.
We express our warmest thanks to the association Birba and in particular to Alessandra Comparozzi and Rita Barabani for their invitation, their hospitality and helpfulness; to the Library Archimede of Settimo Torinese which kindly gave us many texts coming from their rich catalogue of accessible books; and to all participants, who gave us two intense and very satisfying days.