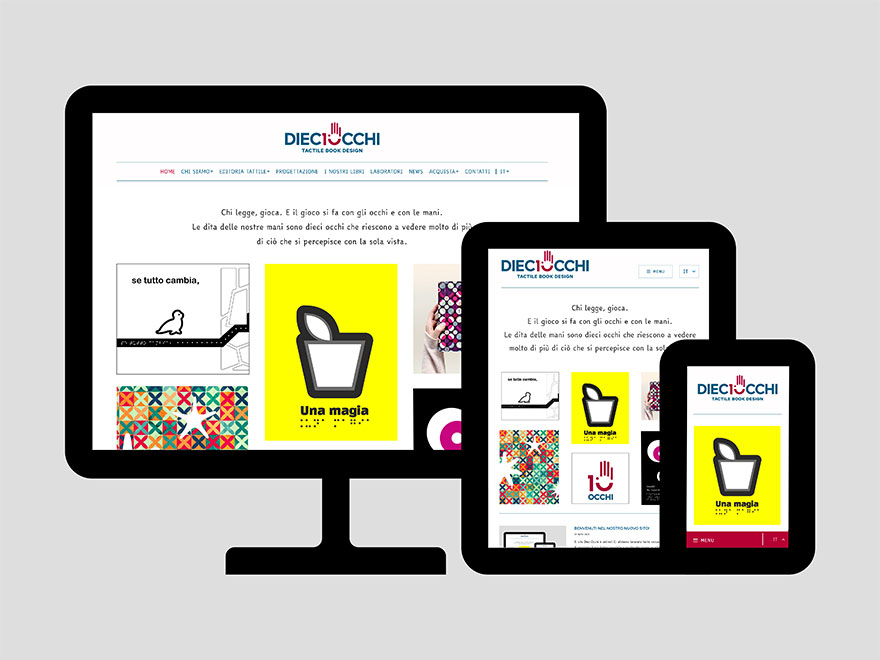 Welcome to our new website!
Welcome
to our new website!
Welcome to our new website!
The DieciOcchi website is up and running! We've worked hard on it. We've tried not to forget anything, to make it as faithful as possible to who we are, what we do and how we do it, to make it accessible to readers of all ages and all kinds, to talk to teachers, parents, graphics and design enthusiasts, booksellers, librarians, publishers, experts, all without distinction; but above all to convey the desire to read and play together, the one that we feel while we work and that guides us in the design of our tactile picture books.
Thanks to:
Rosita Paparelli and Graficherò, who with great expertise (and especially a lot of patience!) have followed us step by step, giving voice to our needs and our style;
Alessandra Comparozzi, who has combined graphic skills and dedication to the friendship that has binded us for years, living this project with our same enthusiasm;
Steven Berrevoets, Elena Corniglia, Claudette Kraemer, Giulia Natale, Dominique Vallat, EQLA, Typhlo & Tactus for their precious comments, written with competent and encouraging words;
Valeria Lungo, translator by trade, and Sebastiano Archetti, translator by passion, who made the site available also in French and English.